By Ravi Kalakota and Marcia Robinson, CEO and President, E-Business Strategies, Inc.

In the early 1990s, former General Electric (GE) chief executive Jack Welch declared that "70-70-70" would be his company's rule for sending technology work offsite: 70% would be done by outside suppliers, 70% of that overseas, and 70% of that in India. Welch's vision was to recreate the company using Indian resources. Today, GE is considered by many to be the most advanced practitioner of the offshore outsourcing business model.

Does the GE strategy make sense for your company? Have you thought about which areas or functions you would like to send offshore, or what you would like to accomplish through offshoring — increased cost savings, reduced head count, or quality improvement in your processes? Is your goal to build up your presence in a particular country? How much ownership of the offshore project would you prefer? Are you comfortable working with an offshore partner who is almost a day's flight away, or would you be willing to pay more to work with a nearshore vendor located in Canada for example?

Once you have answered these questions and completed some other preliminaries, such as defining the scope of your project, performing a gap analysis, and developing your business case, it's time to start thinking about which offshore business model will help you accomplish your objectives. Five models exist: global delivery, hybrid, build-operate-transfer, global shared services, and multisourcing.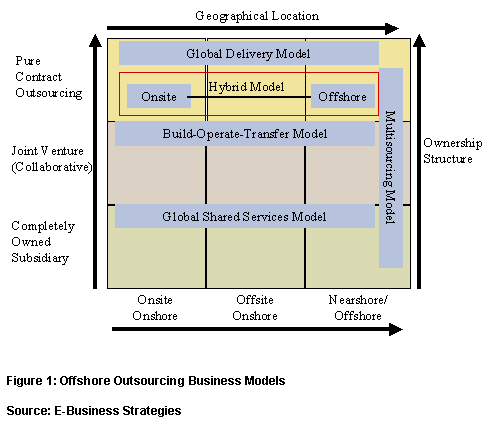 Global Delivery Model
The global delivery model (also called blended outsourcing) is a trademark offering of multinational service providers such as Accenture, EDS, and IBM that combines onsite, offsite onshore, and offshore resources.

Vendors have a variety of marketing names for the global delivery model: best shore, any shore, right shore, and multishore. Whatever it is called, its objective is the same: to distribute and manage engagements and resources across multiple global locations, thereby allowing the service provider to better respond to client requirements from around the globe. If disaster strikes any of the vendor's locations, it can immediately shift work to other locations so that there is no interruption in business processes.

Accenture exemplifies this model. Accenture has more than 83,000 employees, over 5,000 of whom are based in low-cost delivery centers in locations such as India and the Philippines. The company tentatively plans to hire an additional 5,000 people in India in 2004 alone. The objective is to provide a seamless outsourcing experience for corporations.

The global delivery model allows vendors like Accenture to innovatively distribute and manage their engagements across multiple global locations. Its chief advantage is a lower rate without the risk. It can accommodate faster time-to-market requests by divvying up work among onshore, nearshore, and offshore development facilities. Large corporations that hire major global outsourcers often prefer this distributed approach.

Another advantage of the global delivery model is that it saves the client from investing in a huge team of employees. It adapts to the client's changing requirements and, if there is a sudden need for more resources, the service provider can supply them immediately.

Global Delivery Model in Action
EDS's Best Shore Services, the company's trademarked name for its global delivery outsourcing service line, helped Coors Brewing Company decrease the cost of applications management by 40%. Coors was struggling with an IT environment that had grown so large it hindered the brewer's ability to respond to business challenges. The company wanted to simplify its IT infrastructure and slash spending. Enter the global delivery offshore outsourcing model.

EDS's Best Shore Services and others like it determine the optimal mix of sourcing options for the customer — onshore, nearshore, and offshore — based on risk tolerance, degree of cost savings desired, language requirements, and other factors. EDS's Best Shore Solutions Centers are situated in India, Egypt, Australia, Brazil, Canada, Ireland, the Czech Republic, Mexico, and New Zealand. For EDS, the global delivery model creates shared economies of scale. For instance, EDS New Zealand has undertaken applications work for Coors and the Royal Bank of Scotland, as well as contact center work for ChevronTexaco. For Coors, the global delivery model resulted in application management costs that dropped by 40%.

Hybrid Delivery Model
The hybrid outsourcing model, also known as the dual-shore model, takes advantage of onsite and offshore services to deliver results to clients at reduced costs. Midsize service providers headquartered offshore commonly adopt this delivery model.

A software development project undertaken by a hybrid provider would go something like this: A local team stationed onsite with the client would manage the project's program management office and handle the client-facing components of the project, such as requirements gathering and user-interface development. The onsite team would control the defined portion of the project that required interaction with the business subject matter experts and software architects onsite. Meanwhile, the team based at the provider's offshore facilities would take care of the coding, testing, and bug fixing so work could be performed around the clock.

One of the most popular to have emerged so far, this model maximizes efficiency in resources and costs. Ideally, 20%–30% of work is done onsite and 70%–80% is sent offshore, depending upon the criticality of the project. Its benefits include near 24-hour work cycles; the ability to structure and assemble teams with diverse, multiple skill sets; lower-cost resources; and the ability to quickly scale (up or down) depending on the requirements.

The hybrid delivery model owes some of its success to the fact that it enables clients to directly interact with the service provider through the onsite team and simultaneously enjoy the benefits of offshoring. The hybrid delivery model also has its own set of challenges — project management and administration costs, optimization of cross-cultural communication, and the supervision of onsite teams.

Hybrid Delivery Model in Action
As the world's largest provider of electronic design automation products, Cadence Design Systems helps companies bring their ideas for electronic products to life. It does the bulk of its design work for businesses that manufacture items such as semiconductors, computer systems, mobile and wireless devices, and other advanced electronics.

With almost its entire customer base adversely affected by an economic downturn, Cadence had to work much harder to sell its products. To reduce IT costs, Cadence outsourced some of its application development to Aztec Software. When the project began, Aztec sent between eight and ten software engineers to Cadence's California location to support its design team. The two groups worked to pinpoint what would make the project a success and to get comfortable with each other's work styles. Aztec had to understand Cadence's processes, infrastructure, and reporting before it could move any work to headquarters in India.

Eventually, Aztec began moving the work to Bangalore piece by piece, and the Aztec group dedicated to the project increased from eight people to 38 people. Currently, two Aztec staffers remain in California and 35 work offshore from India. Faced with an urgent need to enhance competitiveness, more technology companies are choosing the path Cadence chose: offshore outsourcing.

Global Shared Services Model
Global shared services centers, also known as captive centers or offshore insourcing, consolidate organizations' internal service operations into mega-service centers. Sometimes these global centers are run as independent businesses, with their own budget and bottom-line accountability. GE, HSBC, and American Express are considered the most sophisticated at deploying this model.