By Emmet B. Keeffe III, CEO & Co-Founder, iRise

Today's challenging economic climate is keeping everyone on their toes. Companies must keep a close eye on their bottom line in order to keep operations running more efficiently than ever before. At the same time, customers are demanding more than ever from corporate applications.

Achieving a successful software deployment – the first time – is critical. Fine-tuning the development process to ensure satisfied customers and a manageable cost structure starts at the very beginning: The requirements process. New research shows that the better the requirements, the more successful the project.

The Requirements Challenge
Most companies struggle with the software development process. The main cause of problems is specifying what exactly the software will do.

Our company actually started out as a consultancy. We specialized in highly-interactive applications and actually built about 300 of them during that era. We quickly learned that the business analysis and requirements definition phase was the most excruciating part of any project.

Like most companies, we spent a lot of time writing text-based requirements and use cases in order to accurately capture business needs. We created process flow diagrams, screen shots, and more. Most of these requirements documents ended up anywhere from 50 to 500 pages.

Not surprisingly, when we sat down with our clients, we realized that it was impossible to review and interpret that level of detail. So after spending months to get through the requirements phase, the business didn't really know whether the requirements were correct when they signed off on it.

The end result was a tremendous amount of scope change as the project moved forward, which often lead to project delays and costs overruns.

Accurate Specs are Key
What we discovered is that we weren't the only ones experiencing the problem of poor communication between business and IT; the issue is actually quite pervasive in the industry. Whether on the enterprise side or in the halls of a particular software company, the challenge to accurately describe an application's look, feel and behavior so that it meets business needs the first time, is a significant one. The bottom line is that business people fundamentally have a hard time understanding text specifications, screen shots, static use cases and business process flow diagrams. And coded prototypes have proven to be too expensive and time consuming to produce; they often require a developer to be pulled off a project to produce.

Importantly, accuracy doesn't simply result in a faster time-to-market or lower development costs. Forrester Research reports, "Better requirements definition practices reduce the number of defects and the amount of rework resulting from misunderstood requirements, misarticulated requirements, and unknown requirements."

In fact, a new study finds a correlation between the accuracy of requirements and the success of a particular software project. IAG studied enterprise IT projects valued at $250,000 or more at 100 companies. The objective was to assess the impact of requirements on the success of the project.

The findings were compelling. Companies with poor business analysis capability were found to have a much higher rate of project failure compared to those with higher levels of business analysis capability.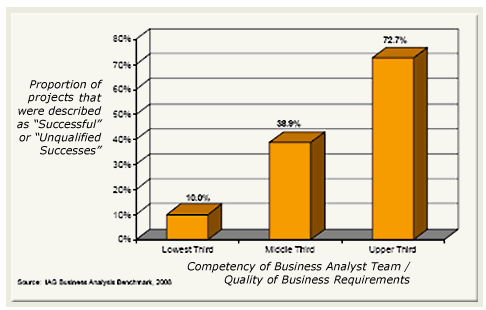 Startlingly, companies with poor requirements practices pay a 60 percent premium in development costs over companies with better practices. IAG wrote:

"Almost 70 percent of companies surveyed set themselves up for both failure and significantly higher cost in their use of poor requirements practices. It is statistically improbably that companies which use poor requirements practices will consistently bring projects in on time and on budget. Executives should not accept apathy surrounding poor project performance – companies can, and do, achieve over 80 percent success rates and can bring the majority of strategic projects in on time and on budget through the adoption of superior requirements practices."

The Benefits of Visualization
To vastly improve the success of software projects, we created the concept of visualization. Well, actually, we didn't create the concept – we borrowed it. Visualization is commonly used in the design of cars, airplanes, semiconductors, manufacturing devices and many others. It's been well documented that the adoption of computer-aided design and 3D modeling tools have transformed whole industries, allowing them to get to market in half the time, with better products, lower cost and reduced risk.

The addition of visualization to the world of business application design aimed to bring the industry out of the drafting board era and into the Internet age. Since iRise developed its initial product in 2000, many companies have adopted the technology.

The typical author of visualization is a business analyst or user experience professional. In an ISV, the typical author might be a product manager. Using iRise, the visualization author is able to quickly assemble a high fidelity, working preview of the proposed application, including data interactions and business logic. Text requirements can be documented right alongside the screens of the visualization. Use case scenarios are built right in. Stakeholders review the visualizations in a standard Web browser and leave comments for the authors using the equivalent of digital 'sticky notes.' The important point is that the visualization exactly mimics the final application, so there is no confusion about what to build.

The benefits of visualization to anyone that develops software are significant.
Business people can fully experience the product and make changes early in the process, saving significant time and downstream costs.
Developers can catch design and functional errors before an application goes into production.
The process can speed through multiple rounds of functional visual edits to quickly reach decisions on business needs and customer experience.
Managers can increase final adoption of system with upfront agreements of the application's process flow, experience and visual look and feel.
User experience professionals can rapidly iterate proposed designs directly in front of customers, dramatically improving customer experience.
Software sales teams can demo potential products to customers to get feedback before actually developing the application.
The professional service teams can test a potential product for possible needed changes to speed implementation and integration.
Sharing visualizations with global sourcing partners is not only easier but cheaper.
Visualizations eliminate confusion with global development teams because everyone is speaking the same language.
Resellers can sell a solution by showing a visualization of what a specific application could do when integrated into the customer's environment.
Visualization is now being used successfully by hundreds of companies on thousands of projects that range from new custom development, Web portals, SAP customizations and even mobile applications in order to improve functionality, cost effectiveness and timeliness of the software development process. Our vision is that by 2020, all business software will be visualized before its built, just the same way that every car, airplane and semiconductor are visualized today.

Reprinted from "Success through Visualization," SandHill.com, by Emmet B. Keeffe III. Reprinted with permission of the author.

---

Emmet B Keeffe III is CEO and Co-Founder of iRise, the market leading supplier of visualization software for business applications. Over the last 15 years, he has applied his philosophy of 'the network is the business' to become one of the most well connected CEOs in the software industry. As CEO of iRise, Emmet has leveraged his network to close over $50M in investment funding and is also intimately involved with sales, marketing and business development at iRise. Prior to co-founding iRise, he built a top-selling region at NetDynamics, a pioneer of the Web application server market that was later acquired by Sun Microsystems. Earlier in his sales career, Emmet earned over 15 national sales awards, including being named 'National Top Performer' by NetDynamics, Auspex Systems, Diasonics and Minolta. For article feedback, contact Emmet at emmet@irise.com