By Chris Dowse, Founder & Chief Executive Officer and Ben Galison, Principal, Neochange

With the software industry realizing the changing customer needs, Chris Dowse and Ben Galison of Neochange share their insight into the steps which software vendors can implement to shift towards the buyers' perception of value to prevent threats to maintenance revenue. This article explores the magnitude of the increased threat and provides a three-step approach with concrete actions all ISVs can take to protect critical maintenance revenue streams and even grow services revenue.

Software vendors must act now to address the clear and present threat to maintenance revenue. Long the software industry's cash cow, maintenance and support revenue delivers high margins that fund product R&D and is used as the basis for company valuations in mergers and acquisitions and financing arrangements. Multiple forces have converged to intensify the threat, including market shifts towards buyer perceptions of value, tough economic conditions, industry consolidation and unprecedented transparency into software usage.

In 2006, Neochange, a leading-edge management consulting firm, committed to shifting industry norms towards greater value realization from investments in software, technology and process reengineering, published an article on maintenance revenue protection that was downloaded over 3000 times, indicating this as a hot topic among ISVs. Large software vendors are already responding to the threat. This new article explores the magnitude of the increased threat and provides a three-step approach with concrete actions all ISVs can take to protect critical maintenance revenue streams and even grow services revenue.

The threat to software maintenance revenue has become clear and present.

Long the software industry's cash cow, maintenance and support revenue provides high margins that are the funding engine for new product research and development. The maintenance revenue stream is also used as a basis for company valuations in mergers and acquisitions and financing arrangements. Protecting maintenance revenue is a hot topic for independent software vendors (ISVs); a 2006 Neochange article on the subject had over 3000 downloads.

Multiple forces have converged to intensify the threat. The industry's shift towards buyer perceptions of value has brought downward pressure on both price and sales volume, eroding the revenue basis on which the maintenance percentage is calculated. Tough economic conditions have created more sales declines and upgrade delays, making ISVs more dependent on maintenance as a larger share of their total revenue. Struggling ISVs are especially vulnerable, relying on maintenance revenue to fund operations as the recession makes venture funding and bridge financing more challenging.

New end user monitoring technology (EUM) adds to the peril. Unprecedented transparency into software usage exposes underused applications and enables visibility into whether customers are getting actual ROI on their application investments. In today's cost-cutting environment, software with low levels of effective usage puts maintenance contracts at risk of cancellation or discount.

The good news is that ISVs can protect their maintenance revenue stream and even grow services revenue by becoming more customer-centric and making customers visibly successful through effective adoption.

Companies can increase customer effective usage of software products through an integrated, sequential program of improvement. For sustainable impact, each company's detailed approach should take into consideration its organizational capabilities and areas of greatest risk, but the basic sequence can be summed up as follows.

Step #1 – Mobilize Internally: Improve Customer Experience Throughout the Company
On the surface, the concept of becoming a more customer-centric company is hardly new. Yet aspects of this shift are essential to achieve and sustain the changes that provide a foundation for maintenance revenue protection. Without a core operation that can effectively support and service its customers, protection efforts will be band-aids at best, doomed to fail in the long run.

Ensuring a positive customer experience builds customer loyalty is an important part of protecting maintenance revenue. Surprisingly, it can also reduce operating costs for the ISV.

Customer experience improvement needs to come from the support and services functions, the primary touch-points for existing customers. By focusing on effective internal adoption of the CRM, PSA and other delivery systems, ISVs can streamline and improve the quality of customer interactions to deliver better service levels.

The results can be impressive. One Fortune 500 company used its CRM adoption initiative to identify annual benefit equivalent to nearly 3% of its annual revenue. Over 40% of the benefit was hard cost savings achieved by reducing support staff user errors, improving workflow navigation and simplifying customer facing screens to simultaneously lower problem resolution times and improve customer retention. A second Fortune 500 company was able to increase professional services staff productivity by 11% through more effective PSA adoption while increasing the delivery quality of services.

Another positive by-product of successful CRM/PSA adoption is the sharing of key customer information across the organization. In many ISVs, customer knowledge exists in fragmented form, trapped within organizational silos, disparate systems and the minds of a few individuals. This fragmentation is a barrier to the flow of key information necessary for effective customer support. Effective CRM/PSA usage institutionalizes the cross-functional customer perspective essential for a software company to deliver useful support and services and to respond quickly to revenue risk situations that demand immediate action.

To improve the customer experience, leaders will need to facilitate a cross-functional dialog and empower employees across support, services, account management and sales groups with identifying top customer problems and proposing solutions. Leaders can use the maintenance revenue threat as a burning platform for change, communicating a company-wide vision for customer retention through improved customer experience. Executives should drive collaborative action and results with clear goals (e.g. targets for percent reduction in cancellations, number of major account renewals and published customer ROI/success stories). Incentives for executives, teams and account owners will need to be realigned to foster cooperative efforts.

ISVs that are easy to do business with and meet or exceed customer expectations through more effective adoption of internal customer-centric technologies will be ready to 'walk the talk' and apply their newfound adoption capabilities to their own products with existing customers.

Step #2 – Extend the Experience: Understand Customer Usage and Barriers to Success
Customers struggle with adoption and are seeking help with their usage problems. Most are interested in developing a new relationship with their vendors that meets this need. A recent survey by Neochange and Sandhill revealed that almost two-thirds of enterprise buyers achieve less than 49% effective adoption. With customer experience improved and the adoption discipline institutionalized, ISVs can turn their attention externally to understand where customers are struggling with the ISV's own products.

Shared internal knowledge alone is insufficient to address customers' adoption problems. ISVs also need to reach out proactively to customers to understand their effective usage patterns and identify adoption barriers in the customer's environment. The adoption discipline coupled with EUM technology is a powerful combination to achieve this purpose.

ISVs can work closely with selected customers to monitor their effective usage of the ISV's products. An adoption 'health-check' will reveal low effective usage areas of the application as well as low-adoption groups within the user base. Both are opportunities to help the customer make better and more consistent use of the product, across a wider user base, to realize greater business value. While underlying needs should be analyzed, interventions may include delivering additional training and services (e.g. agile configuration, workflow and usability improvements) to shore up gaps. This adoption health-check also provides an opportunity to deepen the customer relationship.

Gains in effective usage and resulting financial benefits – the actual ROI – should be broadly communicated within the current customer environment to boost confidence and loyalty. The success story can also be disseminated to other customers through press releases, white papers, user communities, blogs and other channels. Ultimately, ISVs should leverage intelligence and insights about customer effective usage patterns to identify and implement high-impact product improvements and services modifications (e.g. refining training programs and implementation methodologies). Product Management, Services and Sales & Marketing all benefit. Adoption insights and actual usage data can be further used to quash erroneous perceptions (e.g. slow application response times) and identify problems not caused by the software product, such as skills/experience gaps and inconsistent practices across the user base.

Still further, ISVs can use their insights into customer effective usage and drivers of business value to create new services that will stimulate the upgrade cycle. Effective adoption is the industry's current limit to growth.

Step #3 – Lead Customers to Success: Capture Revenue Opportunity
Customers are willing to pay for a new relationship with their vendors, but vendors will need to deliver the business value that customers need – not just technical services.

The Neochange/Sandhill survey identified effective adoption as the most important factor for realizing business value from technology and indicated over 80% of customers are willing to pay for services that enable this. Yet ISVs have historically focused on technical support and traditional implementation services. For every dollar spent on implementation, customers will spend at least another dollar on value realization.

Knowing this, ISVs should re-orient their service portfolio more towards the goal of customer value realization. The effort starts with the existing customer base by developing an adoption focus within the support and service delivery functions. The benefits are considerable. Effective user adoption increases customer switching costs, enables value-based pricing that prevents price erosion, produces visible ROI for customer success stories to drive other sales and provides a platform for up-selling and cross-selling.

Furthermore, since a rebalanced portfolio mix would include a lesser proportion of implementation-focused services, which typically have a lower margin, overall service profitability will improve. This is a win/win case for both ISV and the customer. The Neochange/Sandhill survey indicated that 95% of customers were seeking a new relationship with their vendor that includes greater leadership in software adoption.

Large enterprise ISVs, such as Oracle, SAP and CA understand the maintenance revenue threat and importance of adoption and have begun taking steps to address the problem. SAP makes itself a responsible partner to reduce customers' total cost of ownership and increase benefits, using scorecards to measure value realization. At CA, "customer value experience" teams work cross-functionally across the enterprise to increase user adoption and customer satisfaction as well as deliver new value approaches.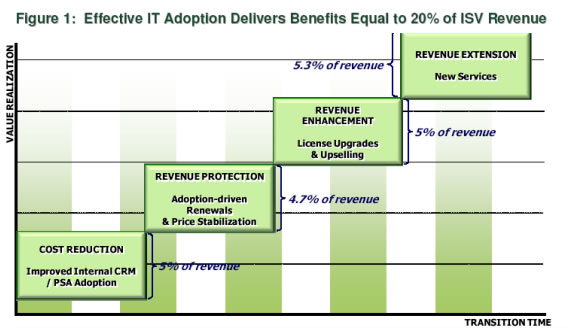 ISVs can establish value assurance services by reorienting existing services as well as developing new offerings with specific value-enhancing objectives. EUM can be used to baseline effective usage and demonstrate achievement of gains as improvement recommendations are implemented. In all cases, value assurance will be achieved through cross-functional efforts involving a high degree of communication and collaboration. Services partners, working on behalf of the customer in a trusted advisor role, can be instrumental to ISVs in helping customers realize value. Value assurance services may include customer ROI acceleration offerings, business domain maturity assessments and organizational change leadership.

These extended services provide new paths to value for customers, thereby deepening the customer relationship while driving additional services revenue.

Innovate to Thrive
Taken together, these three steps can produce financial benefits equivalent to over 20% of annual revenue, including cost reduction from CRM/PSA adoption, protection of maintenance revenue, revenue enhancement from license upgrades and up-selling as well as revenue extension from new services (see Figure 1). While the current business environment makes an economic opportunity of this magnitude difficult to imagine, the technology industry's history is built on examples of innovation driving subsequent waves of growth.

Faced with the 'perfect revenue storm' of current economic conditions, industry consolidation, and increased usage transparency, ISVs must act now. Moving forward, customer perceptions of value will continue to drive the software industry.

The economic opportunity for those willing to make the changes and investments to mobilize can be lucrative, but many ISVs will not survive the industry shift. Successful executives will use customers' adoption challenges as a source of revenue growth and innovation to thrive through challenging times.


---

Chris Dowse is CEO and Founder of Neochange, Inc. Ben Galison is a Principal with Neochange. It is the leading management consulting firm focused exclusively on the complex challenge of Effective IT Adoption. Neochange's innovative AdoptITTM methodology mitigates adoption risk and accelerates corporate earnings improvement. For article feedback, contact Chris and Ben at inquiries@neochange.com